ALL ON 4 DENTAL IMPLANT PROCEDURE
All on 4 Dental Implant Procedure: Here we look at what to expect from your first free consultation to your post-surgery smile, and everything in between.
Step 1 – Your Free Consultation
The first step on your journey to a confident smile begins with your free consultation with Dr Mark Taylor.
Dr Mark Taylor will explore the various treatment options and discuss the All on 4 Dental Implant Procedure with you.
He will will examine your mouth, discuss your needs, and confirm if you are a suitable candidate for the All on 4 Treatment solution.
If All On 4 treatment options aren't the right solution for you, he will recommend other viable options that will suit your personal needs.
This consultation is also a good opportunity to get your specific questions answered by Dr Mark Taylor, who will be with you throughout the process.
Step 2 – X-rays
In order to complete your diagnosis and check your suitability for the All on 4 dental implant procedure, special x-rays called cone-beam CT (CBCT) scans are needed.
If you are a suitable candidate for this treatment, these X-rays also help us plan the positioning of your fixtures.  (see Step 5 below on the preparation of your dental surgical stents)
Step 3 – Your Personalised Treatment Plan
Once you have completed your X-rays, and after Dr Mark Taylor has confirmed you are a suitable candidate for All on 4 dental implants, you will be given a treatment plan.
This is tailored to you and outlines all the treatment stages; the costs involved; and any options for payment plans.
Step 4 – All on 4 Implant Mock-up
Once you decide to proceed with your All on 4 dental implant procedure, you will need to attend our Robina clinic for photos, models and other records.
We will use these to plan the optimal set-up of your replacement teeth in terms of appearance and function.
As part of this process, and before your surgery, we will prepare your dental implant stents. These are an acrylic device made from a model of your mouth that fit over the area where your All on 4 dental implants are to be placed.
They will later help guide Dr Taylor on where to place your implants.
Finally, you will be guided through what to expect in your surgery and have your dates confirmed.
Step 5 – Surgery and post-surgery
Surgery is usually done under General Anaesthetic or another form of sedation.
5.1 Removing your teeth and preparing your jaw
Dr Mark Taylor will begin surgery by removing your teeth, and preparing the jaw area to accept the All on 4 dental implants.
This may include cleaning out any remnants of disease and preparing the jaw bone to accept your new fixtures.
5.2 Inserting your fixtures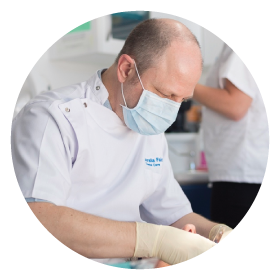 Your fixtures are inserted and any repair or reconstructive work is done as agreed.
Your wounds are closed with dissolvable sutures.
Next, impressions are taken of your new fixtures and implants through an opening in your gum.
The stents that were prepared earlier in Step 4 are used as a first try-in of your new implants.
5.3 Recovery and preparation for your new teeth
While you are recovering, we work off the stents records we have in surgery (Step 5.2).
These are used to prepare a new set of teeth to try in your mouth.
Once your try on these new teeth for size, Dr Mark Taylor will make any adjustments that are required.
This is the time you get to see what your new teeth are going to look like.
5.4 Your new smile
The next day you will have your new permanent teeth (prosthesis) fitted.
Because you have already had your surgery, there is no need for any anaesthetic while your new teeth are attached to your fixtures.
We love to see YOUR smile
Payment Plans are available for all our Dental Treatments